3 Special Privileges from Krungsri Bonus points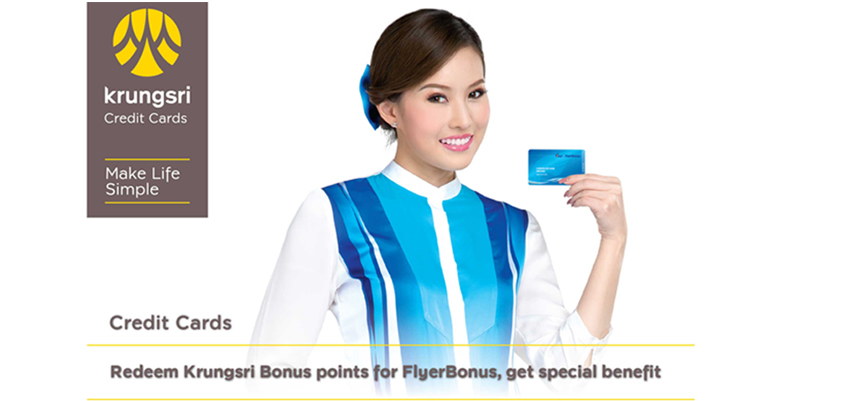 More privileges are on offer for FlyerBonus members when redeeming their Krungsri Bonus points. For every 1,000 Krungsri Bonus points exchanged, members will receive the equivalent of 10 FlyerBonus Points. Plus, Get special benefit
(except Central Card, Krungsri First Choice Card and Krungsri Simple Visa Card)
Step 1 : Get 50% discount when redeeming Flyer Bonus Awards during 15 October – 15 November 2014

Step 2 : Get FREE Benetton Travel Set 990 baht when redeeming 100 FlyerBonus and above (Limited 1 per account/right/all campaign)

Step 3 : Get Eurasia Hotel voucher in Chiangmai valued at 6,000 baht for top 4 cardholders who redeemed points for FlyerBonus. (Minimum redemption is 500 FlyerBonus points)
Krungsri Bonus points coversion Tel. +66 2 646 3000
Promotion period Today – November 15, 2014.
Terms and condition of Krungsri Bonus point
Krungsri Bonus Points, in increments of 1,000 points, can be exchanged for the equivalent 10 FlyerBonus points.
Transferring the Krungsri Bonus Points to Flyer Bonus takes up to 10 working days from requested date.
Cardholders can redeem Krungsri Bonus for "50% Award Sale from Bangkok Airways" during 15 October - 25 November 2014
For more information to redeem FlyerBonus Tel. 0-2656-3000.
Krungri Bonus points will be deducted from cardholder account by date of redemption. Cancellation on redemption is not allowed.
This offer is not valid for Central Card, Krungsri First Choice Card and Krungsri Simple Visa Card.
Terms and conditions for Benetton Travel Set
Delivery of Benetton Travel Set will take about 60 days after campaign ended by address of billing statement.
Limited special gift 1 unit/cardholder/whole campaign
Terms and conditions for Hotel vouchers
Bangkok Airways will be send voucher to cardholders within 60 days after campaign ended.
The Company assumes no responsibility for merchandise and service. Any inquiries, please contact FlyerBonus.
Conditions of point based on terms and conditions of Bangkok Airways.
Other terms and conditions
Discount and Voucher cannot be transferred/changed/exchanged to cash.
The Company reserves the right to change any terms and conditions without prior notice.
In case of dispute, the Company reserves the right of final decision
The Company reserves the right to treat the company information as the final decision.
Terms and conditions of FlyerBonus 50% Award Sale :
Click Here