Enjoy Super Bonus with KTC-Bangkok Airways Credit Cards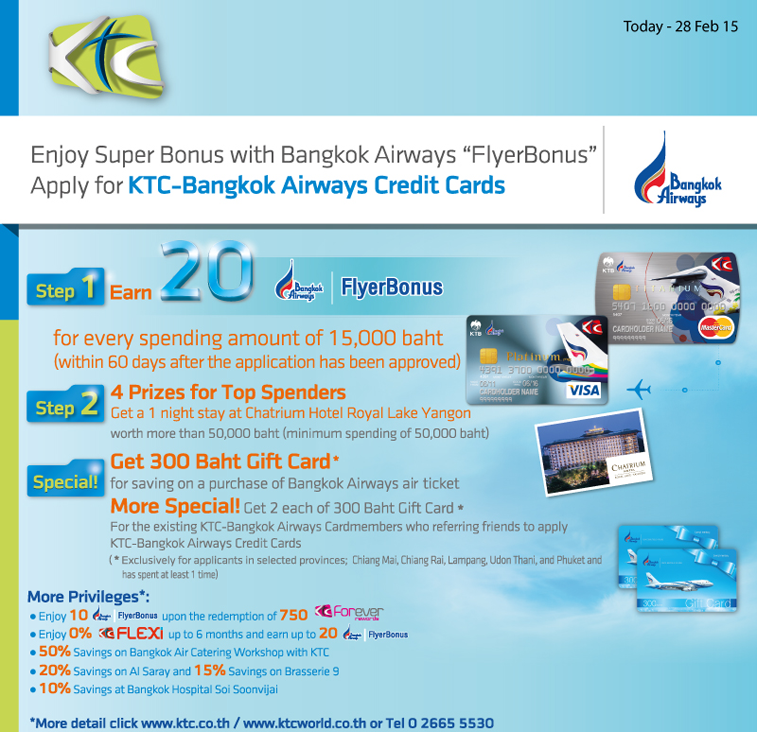 Exclusively for FlyerBonus members, who apply for KTC-Bangkok Airways Credit Cards, Easily receive 2 steps bonus
Bonus 1: Earn 20 FlyerBonus points for every spending amount of 15,000 Baht (within 60 days after the application has been approved)

Bonus 2: 4 prizes for the Top Spenders will get a one night stay at Chatrium Hotel Royal Lake Yangon worth more than 50,000 baht (minimum spending of 50,000 baht).

Special! Get 300 Baht Gift Card* for saving on a purchase of Bangkok Airways air ticket.

More Special! Get 2 each of 300 Baht Gift Card* for the existing KTC-Bangkok Airways card members who referring friends to apply KTC-Bangkok Airways Credit Cards
(*Exclusively for applicants in selected provinces; Chiang Mai, Chiang Rai, Lampang, Udon Thani, and Phuket; has spent at least 1 time).
Promotion period : October 1, 2014 – February 28, 2015
Terms and condition of Krungsri Bonus point
Exclusive privilege for the new customer must be a person who have never been a KTC card member or have cancelled KTC Credit Cards not less than 6 months.
This privilege is provided for new primary KTC-Bangkok Airways card members and cannot able to combine with any other privileges from 1 October 2014 – 28 February 2015.
To submit the complete application and the enclosed with requirement document to Krungthai Card Public Company Limited PO Box 1400 Nana Bangkok 10112.
The existing KTC-Bangkok Airways card members who referring new friend to apply KTC-Bangkok Airways credit card must be download the application's barcode MGM0000000000000 via www.ktc.co.th only.
KTC reserve the right to exclude the spending for accumulating special FlyerBonus points which are cash advance on the credit card, interest payments, fees for using credit lines, other fees, credit rebates from cancelled purchases of goods and services, or cash back from all types of refund programs.
KTC reserve the right to calculate special FlyerBonus points from total accumulate spending of every 15,000 baht on KFC-Bangkok Airways credit cards only new card members applicants between 1 October 2014 – 28 February 2015 and their accumulated spending within 60 days after the application has been approved.
The special FlyerBonus points will be transferred to your Bangkok Airways memberships account within 45 days after the credit card has been approved for 60 days.
KTC reserve the right to give the gift card (value 300 baht for one each) for savings on a purchase of Bangkok Airways card members applicants only to those who has spent at least 1 time (not limited amount per sale slip) and apply from on these 5 provinces: Chiang Mai, Chiang Rai, Lampang, Udon Thani, and Phuket. Additionally, the existing KTC-Bangkok Airways card members will receive the gift card (value 300 baht for two each) when referring friend to apply KTC-Bangkok Airways credit card in the selected province and has spent at least 1 time.
KTC reserve the right to dispatch the gift card for savings on a purchase of Bangkok Airways ticket to KTC-Bangkok Airways card members applicants and the eligible existing KTC-Bangkok Airways card members in every 30 of the month (start at November 2014) Terms for this award are in accordance by Bangkok Airways.
The special award to "Top Spenders" who have minimum spending of 50,000 baht will be eligible to participate in winning these special rewards. The spending amount cannot be accumulated during 1 October 2014 – 28 February 2015. Terms for this award are in accordance by Bangkok Airways.
KTC reserve the right to withdraw and recall special FlyerBonus points and/or accumulated points as well as demand compensation for damages if it has been determined that card members have fraudulently participated in this promotion in order to benefit from this campaign, or use the credit card for purposes that are commercial.
KTC reserve the right to changes the terms and Conditions without prior notice.
For more details click www.ktcworld.co.th or Tel. 02-665-5530